I learned "WHAT IF" tapping from Carol Look, one of my favorite EFT mentors.  Adding the question, WHAT IF?  to your tapping allows you to imagine the possibilities, looking beyond what you see in your life right now. It is our limiting beliefs that can get in the way of the success we would like to see. It is important to believe you can achieve your goals.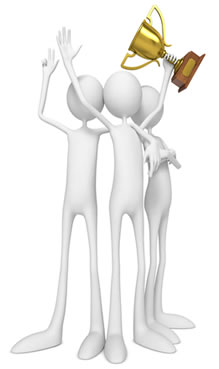 Most people aren't thinking of ranking to Diamond or Royal Crown Diamond when they start out. It's always the income. It's a way to take control of your financial situation, whether to add a little extra income or to grow it into a business that could become fulltime income.
If you have the belief that earning substantial full time income in your network marketing business, will happen for other people but not for you, this limiting belief can get in the way and become a block to your success in the business.
If you have the belief that people can't afford to buy products or the belief that you can't build a business during a bad economy, these are limiting beliefs that will block your success.
Here is an important fact to remember: Network Marketing and Direct Sales businesses thrive during economic down times. People are often looking for ways to supplement their income, PLUS, many of the products offered by these companies are things people use on a daily basis. Why not earn a little income from things people need to use every day. Examples are cleaners, laundry soap, personal care products, health and stress relief and more.
Let's clear those limiting beliefs right now.
Use the What If tapping to look beyond your limiting belief to visualize the possibilities and What if YOU can TOO? When you feel any limiting beliefs coming up, focus on those and keep tapping through the points and releasing the limiting beliefs.
For this tapping, I like to use essential oil blends that help you relax and think about the future. A few Young Living Oil Blend possibilities are: Abundance, Envision, Believe, Magnify Your Purpose, Transformation, Into The Future, Valor.
There are lots of possibilities for oils to use. Go with whatever feels right to you. The added essential oil is not necessary but the oil helps infuse extra energy into your tapping session.
If you are using essential oil in your tapping session, just add a couple drops to your fingertips before you begin tapping and start tapping through the points:
Starting on the Karate Chop point:
Even though I don't believe I can build a strong income with this business, especially in this bad economy, WHAT IF I have been wrong about this?
Even though building a substantial income with network marketing works for other people but not me, WHAT IF I could actually build a full time income.
Even though I have had all these limiting beliefs about my ability to build a strong, abundant, income producing network marketing business, WHAT IF it IS possible for me?
Now tap through the rest of the points: (It doesn't really matter which points, just tap through.)
What If I really could build this business into a substantial income?
What if I have learned someone else's wrong limiting belief about success being for other people but not me?
What if the limiting beliefs I have learned are NOT TRUE?
What if I am in control of all of these limiting beliefs?
What if I am a really powerful business builder?
What if I really am a Diamond in the making?
What if, all this time my limiting beliefs have been blocking my efforts and making me spin my wheels. I have been blocking I have to do is believe it's possible?
What if limiting beliefs are slowing me down like a stuck wheel on a shopping cart?
What if I can release these limiting beliefs and blocks to my building an abundantly income producing network marketing business?
What if I can actually build a business that would, not only help me but also help many others build a strong income working from home.
What if I am just as deserving and capable as anyone else who has built a successful business working from home?
What if I do have what it takes to build this business as big as I want it, all the way to the top rank?
What if I really CAN do this?
What if I DO deserve an abundantly successful income producing Diamond sized business just as much as they do?
What if I am releasing these blocks and limiting beliefs right now?
What if I am leading a team of happy abundantly income producers right now?
What if we are releasing our limiting beliefs and helping each other build this business?
What if I really could believe it?
Why NOT?
I'm not so different as they are!
I'm sure some of them had limiting beliefs too.
They just kept moving forward toward the goal!
One day at a time.
One Income Producing DAY at a time!
I can do that too!!!
I KNOW I can!
I have oils and EFT to help me.
I'm tapping away any limiting beliefs!
I am releasing the emotional attachment to the belief that I can't build this business into a substantial income!
I really CAN do this!
I am attracting strong, confident, successful business builders and we are building a strong, abundant, income producing network marketing business TOGETHER!
Take a deep breath!
I recommend doing this tapping session daily. Things will come up in daily life. There will be things that feel frustrating. Unexpected bills, a pandemic or who knows what. When that happens, keep moving forward with tapping and clearing limiting beliefs. I will be doing it with you! Together we can do this!! 😉
Click HERE to buy Young Living Oil Blends

Tagged with: abundant • Believe • business • EFT • Envision • Essential Oils • income producing • limiting beliefs • Magnify Your Purpose • network marketing • success • tapping • Valor • young living
Filed under: Success Mindset