We often think it is fear of failure that is holding us back but, for most people, it is actually fear of success that gets in the way of success. You may be saying, "No way. I really want success." The problem is, your subconscious may be saying the opposite. There is often one or more subconscious fears that are blocking the way.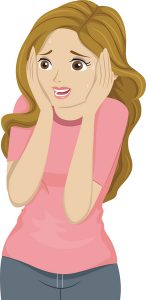 Success brings change and that can be scary. We all feel more comfortable with what we are familiar with. It's called a Comfort Zone. To be successful in anything, we need to step out of our comfort zone. This is especially true as we are working toward raising our rank to Diamond Level in Network Marketing. Lots of changes come as you rise through the ranks in your company. You want to get to Diamond but there is a fear of the unknown. What will be expected of you as the team gets larger and larger.
Fear of the unknown can cause you to subconsciously sabotage your success. Lots of fears come under the category of unknown. How will friends and family feel about your success? Will they be threatened by it? Will You lose friends?
Will you have to do things you don't like? Example: speak in front of a large group.
Success in network marketing will mean an increase of income. That can trigger a host of subconscious fears. You may have an income set point that you have running in your subconscious. There can be a fear of having too much income that keeps you sabotaging your success. You may be saying, "No, I really want more income." But these fears are running in your subconscious. They are conflicting with what you really want.
One sign that this is happening is that you find yourself procrastinating. Procrastination is a way we subconsciously sabotage our success.
We all have areas of our life where feel subconscious fears that show up as resistance. The tapping script below might help you shift some of those fears. In upcoming blog posts I will touch on some common fears that people have in their subconscious programming and some EFT scripts you can use to shift to a more confident state of mind.
Add a drop or two of your favorite Young Living Essential Oil Blend to your fingertips as you tap through the EFT script below. Here are a few ideas: Abundance, Believe, Dream Catcher, Highest Potential, Into The Future, Motivation, Magnify Your Purpose, Release, Valor
Fear of the Unknown:
Tapping on the Karate Chop point:
Even though I am afraid to move forward, I deeply and completely love and accept myself.
Even though I feel uncomfortable about changing, I accept my feelings and who I am.
Even though I feel conflicted about success because I don't know what changes will come, I choose to accept who I am today.

Tapping through the points:
I am conflicted about becoming successful.
It's all so scary.
So much change if I am successful with my network marketing business.
I don't know what that will feel like.
It's way out of my comfort zone.
I know what to expect when I stay in my comfort zone.
Change really scares me.
It feels more comfortable to keep things as they are.
I am afraid of the unknown.
What will happen if I climb the ranks to Diamond?
What will be expected of me?
I am so used to my comfort zone.
It feels save here in my comfort zone.
I want success so much but I feel the resistance to the unknown changes that come with it.
This fear of the unknown is causing me to sabotage success.

But I really do want to be free of the constant struggle of earning a living.
Have time and really live my life instead of struggle to make ends meet.
I want to be home with my kids. (Or travel, or spend more time doing ________.)
I want to have fun working from home and helping others build a freedom business with me.
That's really exciting.
Nothing to be afraid of.
I can release the fear of the unknown.
I AM releasing the fear of the unknown.
I AM releasing the fear of success.
I am releasing my fear of change.
Releasing all the ways I resist change.
I'm releasing it from every cell in my body.

I have changed a lot already over the years.
I have enjoyed a lot of the changes I have made already.
I am focusing on the fun I will be having.
I am focusing on the new friends I will be making.
I am focusing on all the people I will be able to help.
I am enjoying my success.
I am feeling safe and confident in my successful business.
I am eagerly anticipating all the unknown pleasures that success will bring my way.

I am enjoying success and all the changes that go with it.
I am allowing myself to make positive changes.
I am enjoying the changes that come with success.
I am joyfully allowing my success and the change that comes with it.
I am allowing myself to feel comfortable with the all changes that success brings.
I am excited about the unknown changes that are coming with my success.
I am grateful for the positive changes that come with my success.
I am moving forward and embracing change in a calm and confident way!
What fun success is bringing me.
Tap through this script as many times as needed. This is one you could tap every morning as you start your day.
You may want to read the article: 5 Tips to Make Getting Out of Your Comfort Zone Easier