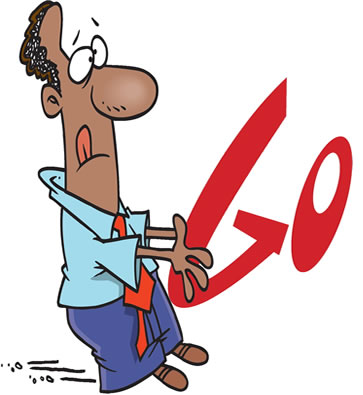 Let's talk about abundance and resistance. As we build our network marketing business, we need to be constantly aware of our energy. If you are like me, you want a business that you can work from home or anywhere you happen to be. You are building a residual income that will create a lifestyle of freedom.
If you are setting your monthly and long term goals and not attracting the abundance you want through your business, it is usually because there is too much "resistance" in your energy systems. This is why it is important to be aware of the resistance and release it so you can attract the abundance you want.
Resistance is any emotion, behavior or vibration that isn't in alignment with what you want. Negative thoughts become negative emotions and vibrations that become resistance. Any negative emotion can become resistance. The negative emotions may not directly be about your business but they DO affect your ability to attract abundance.
Negative vibrations are sent when you are talking or thinking about about what you DON'T want or when you worry or complain, feel discouraged or fearful, etc. This is true when you are having negative feelings around the business but also when you are feeling negative about your current circumstances. If you hate your job and you really want to change things. If you are struggling financially and you really to build residual income to change your financial situation. This is a big one. This is what I was experiencing when I started building my network marketing business. I was tired of having to work crappy jobs and struggling to make ends meet. There was a LOT of stress over money. All of that stress made it really challenging to build my business.
Back then I did not know about the Law of Attraction. I did not know that every time I focused on the things I did NOT want, I was actually sending out negative vibrations attracting more of the same crap. That is really hard when there is not enough money to cover all the bills, or you need a new roof or whatever job needs to be done and you feel stressed out because you have no idea how you are going to get it all done. It's the feelings of stress, frustration, discouragement, etc. that become resistance.
Every morning, stop and notice how you are feeling emotionally. Negative emotions cause resistance and blocks to abundance.
Some examples of emotions that cause resistance are: frustration, pessimism, resentment, anger, fear, anxiety, impatience and general stress. Resistant vibrations include: scarcity, worthiness issues, lack etc. In short, anything that puts you in a bad mood could be called resistance.
You will have negative emotions. We ALL have that. Stressful things happen. The key is not staying there too long. You MUST refocus and get in a better more abundance attracting vibration. Do something to get in a better emotional state. One of the most powerful abundance attracting emotions is gratitude.
EFT is a powerful way to release the resistance and allow abundance.
EFT Tapping to Release Resistance
Essential oils that could be used with this tapping: Abundance, Acceptance, Magnify Your Purpose, Motivation, Release, Field, Valor.
Add a drop or two of essential oil to fingertips before tapping through the points.
While tapping the karate chop point on either hand, repeat these phrases, (or change the words to fit your exact situation).
Tapping on the Karate Chop point:
Even though I have all this resistance, I deeply and completely accept myself
Even though I have all this resistance, I deeply and completely accept myself
Even though I have all this resistance, I deeply and completely accept myself
Start tapping through the points:
I can feel the resistance.
There is so much stress.
Working
Paying bills
Working
Paying bills
Working
Paying bills (Use whatever words describe things you are stressing about)
With all that working,
It seems like we should have enough.
But there's never enough.
This isn't any fun.
All this working.
Never having time to do the things I want to do.
Never having the money to do what I want.
I am feeling the stress.
I feel scarcity and lack.
I feel the resistance.
It's causing me to resist the thing that I really want.
I really want to change things.
I am building this business to change things.
But I can feel the resistance.
I set goals and I work hard,
but I have not been able to reach them.
I had the goal to enroll 5 new members this month,
but I didn't reach my goal.
I do all kinds of prospecting but I can't seem to get anywhere.
I can feel the resistance.
I need to clear that.
It's time to let go of the resistance.
I'm letting it go.
I release all struggle and resistance.
Releasing all the resistance.
Releasing resistance to success in my business.
Releasing resistance in all areas of my life.
I release all feelings of scarcity.
Releasing the fear that there is never enough.
Releasing it from every cell in my body.
Releasing the stress of having to work all the time.
Releasing all the feelings of stress.
Releasing all the feelings of overwhelm.
Releasing all the feelings of fear.
Releasing the feelings of struggle around reaching my goals.
I am open and allowing my business to grow every month.
I am grateful I have this amazing opportunity to build a lifestyle of freedom.
I love our amazing products
and I love sharing the products that have changed my life.
I allow success in my life and my business.
I am open and allowing abundance to flow through my business and my life.
I'm ready and willing to receive abundance.
I am grateful for the abundance I already have.
I am allowing more abundance every day.
I am an abundance magnet!
Take a deep breath. It is always a good idea to drink some water when doing EFT.
Click HERE for Essential oils that enhance EFT