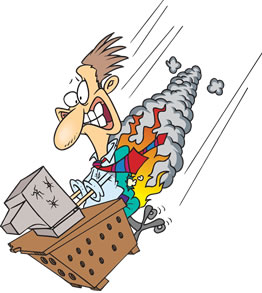 Fear of failure is one of the subconscious reasons why you could be procrastinating and sabotaging your success. When you are afraid to fail, you live a smaller life with less risk. You stay in your comfort zone but no progress is made in your comfort zone. If you really want to make progress with anything, in this case your Young Living business, you need to release the fear of failure and step out of your comfort zone.
Try the EFT Tapping below to get started shifting your fear of success. You can add in any words or thoughts to the script and change it up as you feel the need.
Tapping on the Karate Point:
Even though I'm afraid to try again because I failed in the past, I deeply and completely love and accept myself.
Even though I don't feel like trying because I have failed in the past, choose to believe I can do it this time.
Even though I have failed in the past, I choose to focus on success this time.
Start tapping on the eyebrow point and tap any points as you say or think the words below.
Focus on the problem:
I am afraid to try because I failed in the past
I don't know if I can do it, I have failed before
I don't want to take a risk
I'm afraid I might fail
What if I fail again?
I'm afraid to step forward
I'm afraid to get too hopeful
What if they say no?
What if it doesn't work?
All these feelings around failure
All these fears that are holding me back
Making me sabotage my success by procrastinating
I tired of trying and failing.
Shifting to a positive feeling:
I can be successful even if I failed in the past
I know many successful people failed in the beginning
Abraham Lincoln was defeated in 8 elections
Michael Jordan was cut from the high school basketball team
Walt Disney was fired from an newspaper for lacking imagination
All the really successful people have failures in their past
They didn't let failure stop them
They kept trying and growing
I can do that too
I choose to release that fear of failing
I learn from my mistakes
I am making mistakes and growing
I can believe in my success
I feel safe and confident in my continuing success
I no longer fear making mistakes
Bring it on!
One day I will be talking about my mistakes and how my mistakes paved the way to my success.
Essential Oil Blends: Abundance, Acceptance, Motivation, Highest Potential, Release,
Magnify Your Purpose, Transformation, Valor
Click HERE for Essential oils that enhance EFT