When we begin our network marketing business we have a picture in mind of where we want to go. For some it is a little extra money to cover the cost of the products or supplement their income. For others, the picture is one of freedom: Freedom of time or freedom financially.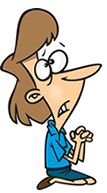 Our excitement over the possibilities can make us a little too eager to convince people to join us. We want them to get inspired like we are. The problem, if we are not careful is that, in our excitement, we can appear like a beggar. To our prospect, it may sound like, "Please, Please, Please join my company with me."


That is not the message we want to give off in our communication with people. We want to talk to people from a position of confidence and posture.


Let go of the stress about the outcome. Approach conversations about your business or product as though you don't care whether they join you or not. Remember, Some will, Some Won't, So What! NEXT!


This is a very important principal in the Law of Attraction. When you are stressed about the outcome and needing people to join and buy products, you actually repel the business you want to attract. You want to project an image people are attracted to. People follow success and strength, not failure and weakness. Communicate from an energy of strength and confidence.


When you seem to play a little hard to get, it can actually cause curiosity and cause people to ask more questions. Here is one particular example that really sticks in my mind:


I was on a shuttle at the Columbus Ohio airport heading from the parking lot toward the place where you check in luggage. I used to be extremely fearful of flying. By the way, I used EFT to remove that fear and actually enjoy flying now.


At the time I was so fearful of flying, all I could focus on was my fear. I had a "Don't even talk to me" attitude. This guy on the shuttle asked where we were going. I responded in a short no info response, "To a business convention." He asked what kind of business. I briefly said it was a convention for distributors of therapeutic grade essential oils. The guy started asking questions about essential oils. I answered his questions very briefly, the whole time wishing he would stop talking to me.


Over the years I have noticed a pattern. When I drop a few comments and run, I often have people chasing me with more questions. When I was desperately wanting someone to see why they should join with me, they rarely joined.


There is something that happens to your posture when you aren't feeling desperate for people to join. It doesn't matter. Some will and some won't.


One way to help develop confidence and posture is to build self-esteem. Personal development is of prime importance to professional network marketers. Building your confidence and leadership skills contribute to having a good posture.


Listening to audios and webinars, reading books, attending company events are some ways to build your skills and posture. Hanging out with and learning from people who have built a successful network marketing business is the best way to build confidence and posture.


As you are doing the personal development and learning skills that increase posture and confidence, why not do some EFT sessions to enhance the process. Try the EFT session below.


EFT Tapping Clip – I Choose Confidence



YL Members: I am using Valor Oil Blend. See the printable script for other options.
Download the Printable Tapping Script: I Choose Confidence EFT tapping script


What have you found helpful in your own business? Leave a comment and tell me what helps you have more posture.