There is a book I love and I encourage everyone who is serious about the success of their network marketing business to read. Actually, there are several I recommend but the book I am talking about is, What to Say When You Talk to Your Self, by Shad Helmstetter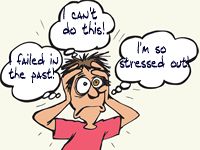 Your self talk has a powerful impact on your success in any endeavor but particularly when building your network marketing business. The words you are using all day long can either lift you or tear you down. Your self talk can either lift your mood or ruin it. Attract abundance or repel it.


It is important to release the negative emotions and keep the energy in a positive state. Your emotions affect your energy. Your ABUNDANCE attracting energy! They affect the way you do things in your business. The negative emotion affect the way you step up and talk to people. This is important because network marketing is a business where you talk to people.


Affirmations can be helpful in redirecting our thinking and self talk into a more positive abundance attracting energy. If you are having a bad day and you are feeling really negative, repeating affirmations can really shift your mood.
Add some power to your affirmations by tapping on the EFT points as you focus on the words. EFT is a wonderful tool to make your affirmations more effective and shift your energy to a more abundance attracting energy vibration. Add some essential oils and really power up your Affirmation Tapping even more. I like Abundance oil for business related Affirmation Tapping.


Make sure your affirmations are positive, NOT negative. For example: Rather than saying, "I am not attracting rude, grouchy distributors", say, "I am attracting strong, confident, successful business builders who love the product." Say whatever feels uplifting and empowering to your abundance.
Use the words, "I am" instead of "I will." Saying, "I will" puts your goal off into the future. Instead of saying, "I will become Royal Crown Diamond" say, "I am building a Royal Crown Diamond team of distributors."
Or, you could say, "I am Royal Crown Diamond." If you have a little voice in your head disagreeing and saying, Ah, No you're NOT!" Then word it like this, "I am attracting a Royal Crown Diamond team of distributors."
A few ideas for Abundance Tapping:
I am confident and I am loved
I am confident and I am loving
I am confident and I love it

I am attracting a Royal Crown Diamond team.
I LOVE that I am attracting strong, confident, successful business builders.
I am GRATEFUL that abundance flows to me through my network marketing business.
I am a very successful, magnetic leader.
I am worthy of receiving ABUNDANCE.
I am allowing great ABUNDANCE.
Every CELL in my body is attracting ABUNDANCE.
I am like a MAGNET attracting ABUNDANCE and I am radiating ABUNDANCE.
I am a confident and successful leader.
I am comfortable talking to people about Network Marketing.
I am confident and successfully building my business.
Add Abundance oil or another essential oil to your fingertips before you begin tapping through the EFT Points.
The EFT Points


KC = Karate Chop
EB = Beginning of the Eye Brow
SE = Side of the Eye
UE = Under the Eye
UN = Under the Nose
Ch = Chin
CB = Beginning of the Collar Bone
UA = Under the Arm
WR = Inside of Wrists
TH = Top of Head


You can also tap the fingertip points. I sometimes tap these points discreetly when I am in public. Each finger can be tapped at the base of the nail.


Think of a positive affirmation that will help shift your energy to a more confident one. Tap each point repeating the affirmation as you tap each point. You can say multiple affirmations as you are tapping if you choose. While you are doing this, try to keep a smile on your face. There is something about smiling that super charges this process.


Always be aware of the words you use and how they impact your emotional and abundance energy.


Click HERE for Essential oils that enhance EFT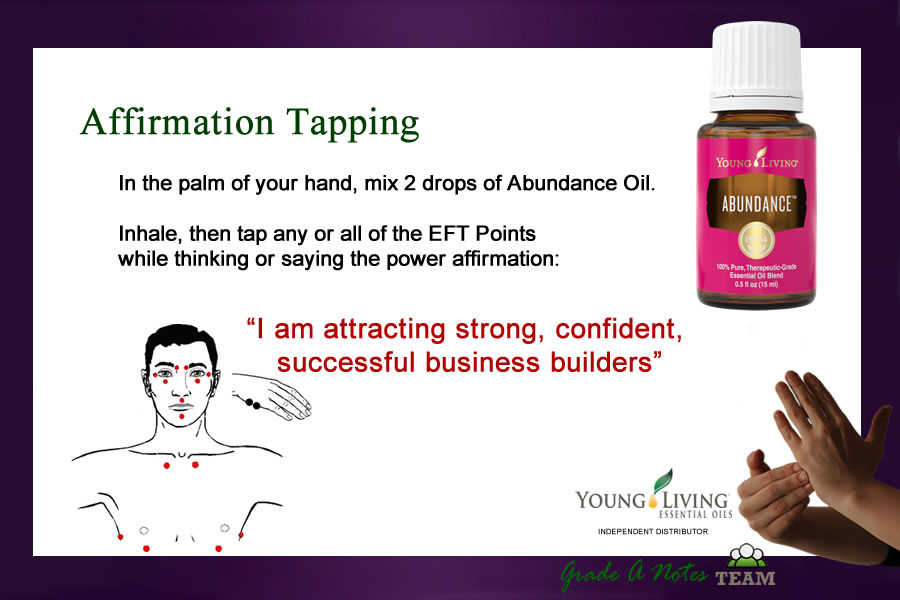 Click HERE for Essential oils that enhance EFT