Success in any kind of business requires doing actual Income Producing Activities every day. In a regular JOB you arrive for the work schedule every day and you have to do the daily tasks or you will get fired. When you have a network marketing business, you are working from home on your own schedule. It can be a challenge to keep focused on the actual income producing activities that actually grow your business. It can be easy to get caught up in doing things that seem like business activities but are really just a form of procrastination. Things like organizing the office or learning all you can about the products and the science behind them, checking in on Facebook Groups related to your business or making graphics. These things are important but if you spend too much time in any area that is not an income producing activity, your business will not grow.
Income producing activities involve connecting with people, approaching new people, talking with people and building relationships. There are lots of ways to do that both in person and online. It's really not hard and actually quite fun once you get past the underlying anxiety that gets in the way.
It's the underlying anxiety that causes procrastination. We all have it in some area. In your business it can show up when you feel hesitant to talk about your business or product.
To build a successful network marketing business, you need to step out of your comfort zone.
There are lots of ways to open up conversation and interest in your products and business. Think of it as planting seeds. Make connections and friends.
EFT is powerful way to help with stepping out of your comfort zone and attacking your Daily IPAs. You can tap on whatever you are feeling that is slowing you down or getting in your way. I really love the Tap While You Gripe technique. Just tap and say (or think) whatever is on your mind. Notice the feelings you are having about talking about your business. Do you feel uncomfortable bringing up the product or that you are building a home business? Feelings like that will cause procrastination which will block your success.
I always use an essential oil blend to power up my EFT tapping. You can do EFT without oils but if you are a Young Living Essential Oil user, just add a couple drops of oil to your fingertips and start tapping through the points. Use whatever oil feels right for you. A few ideas are: Abundance, Motivation, Magnify Your Purpose, Valor.
Let's do some tapping on this!
Jump right in tapping through any of the points.


I am anxious about putting myself out there.
Talking with new people and making new connections and new friends.
I know I need to make new connections and build relationships.
I find myself sometimes holding back.
I want to make more connections and build relationships.
I know this is a relationship business.
It's very important to grow my connections and friends.
I don't feel very social.
I am an introvert.
I feel a little anxious about approaching people I don't know.
It feels a little uncomfortable so I hold back.
Staying in my comfort zone with the same 30 people I already know.
I even hold back talking to the ones I already know.
What if they think I'm a weirdo?
I am releasing the emotional attachment to feeling anxious.
I am releasing the emotional attachment to feeling uncomfortable.
I am releasing the emotional attachment to feeling unsocial.
I am releasing the emotional attachment to fear of speaking up.
RELEASE the anxiety …
RELEASE the discomfort …
RELEASE the fear.
It doesn't have to be hard.
If I just love on my friends and share with them, things happen naturally.
I'll use my favorite products in front of them and share if they need it.
This doesn't have to feel uncomfortable.
I share all kinds of things with my friends and family that I get no benefit from.
I share movies I like.
I share restaurants I like.
I share lots of products I like that I never get compensation for.
I just share because I love my friends and it's natural to talk about what I love.
It's natural to talk about how a product has helped my family.
I love my products and my business and I on the lookout for ways I can share what I love.
I know some of my friends will want to join me on this healthy lifestyle journey.
Some will also want to join me in this amazing community and a lifestyle of freedom.
It doesn't have to feel weird.
It's just a matter of fact.
I use these products for a more healthy lifestyle for my family.
I happen to get paid for referrals.
That's nothing to feel embarrassed or uncomfortable about.
It makes me one smart cookie.
I love helping people have a healthier lifestyle.
I love connecting and making new friends and building my community of friends living a lifestyle of health and freedom.
Take a deep breath.
Tap as often as you need to. Add any feelings you want to as you shift to feeling more comfortable making connections and sharing the products you love.
This would be a good one to tap through before any social events where you will be meeting new friends or interacting with people you already know.
Click here to ORDER essential oils TODAY!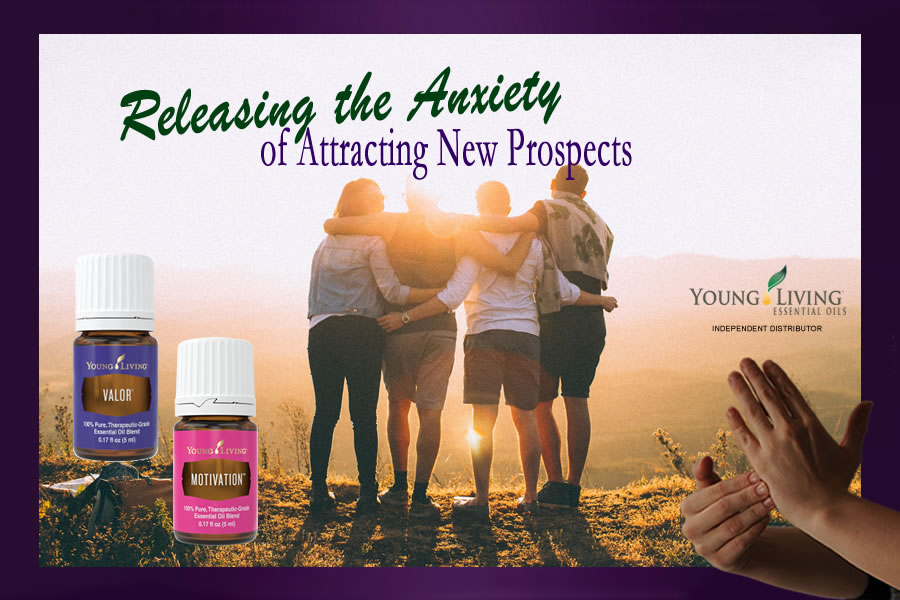 For some business building ideas check out the article: How to Attract Prospects By Building Friendships