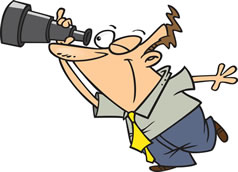 Keeping focused on the road ahead. When you are driving your car toward a destination, you need to keep focused on the road ahead. You have laid out the path to the destination and you start your journey toward your goal.


You look in the rear view mirror briefly but you don't spend too much time looking at what is behind you. If you did that, you would run off the road and crash.


Another thing: you don't spend too much time looking at the things beside you or around you. If you want to arrive safely at your destination, you keep focused on the road ahead. That way you see the bumps and potholes and anything that is going to slow or hinder you in your journey. Sometimes you may come across a detour and may need to make an adjustment to your route but you still have your destination in mind and you are still focused ahead on the goal.


Now think about the driving illustration as you work toward your goals. This principal applies to any goals we are working toward. It could be spiritual goals, weight loss goals, exercise and fitness goals, business goals or pretty much anything we are working toward. Since this blog is primarily to help you as a network marketer, we will focus on business goals.


The first thing you need to do is figure out where you want to go in your business. Your WHY! For me it was FREEDOM. Freedom from the daily grind of having to go to a job that I really didn't enjoy just to make ends meet. Life is too short to waste doing that. Also Financial Freedom was a part of it.


Most network marketers start their business with the idea of some kind of freedom that a home business can bring. Whether you are thinking that an income on the side that would supplement your monthly income or whether you intend to grow a business that can fully support your family, the same principle applies. You have to keep your goal in mind and your eyes on the road ahead.


You will occasionally look in the rear view mirror to see things behind. You can learn from things that happened in the past, both good and bad. You must not spend too long dwelling on the past. If you do, you have taken your eyes off the road. This is especially a problem if we have things we feel bad about and wish we had done differently. We can end up beating up on ourselves and wasting time. Dieters often have this problem. A bad eating day can result in going days before getting back on track. Just acknowledge it and say, "Yup, I messed that up. Now I'm focusing on the future!"


As you are driving a car, there will be things that happen around you. You have someone in the car with you, you see beautiful scenery along the road, passing interesting locations you might like to check out or any number of distractions. The same is true as you are driving toward your business goals. There will be all kinds of distractions along the way.


There are several times during the year when when distributors can be tempted to take a leave of absence from their business. Summertime and holiday seasons are good examples. There are always going to be distractions. It is very unwise to take your focus off your goals during the summer or other seasons of partying. You can still have fun doing summer vacation things but never take your focus off your goals. There are plenty of opportunities to advance your business during the summer or other busy times.


You can stay in marketing mode even when having fun doing other things.


Never forget your your destination. That is why it is imperative to set goals, map out a plan to get there and then STAY FOCUSED on the road ahead. Always remember your WHY. Each morning ask yourself, "What can I do today that will help me to move closer to my goals?"


Those of you who are using Young Living Oils, you have several helpful oils that can help you keep focused on your goals. A few examples are: Magnify Your Purpose, Abundance, Frankincense, Envision, Clarity, Motivation, Dream Catcher.


Use oils with EFT to help you get focused on what you want to accomplish in your business. Remember and focus on your WHY.


Here is n EFT tapping session from the past that may be helpful for you: