At first glance perfectionism seems like a good thing. We all want to do things well but in reality perfectionism is killing the progress in many network marketers business.


I hear it all the time. "I can't start selling the products until I learn more." I don't know enough to build a business." "I don't know how to be a leader yet."


I have heard all kinds of reasons why people can't build their business yet. It is the number one reason people give me as to why they don't want to start writing a blog. They don't feel like they know enough so they will wait until they know more.


Funny thing that happens when you wait until you know enough. You never seem to get to that point. There will ALWAYS be more to learn. Our fears can keep us stuck in a state of analysis paralysis. There is no perfect person on the planet! We are all human and we WILL make mistakes.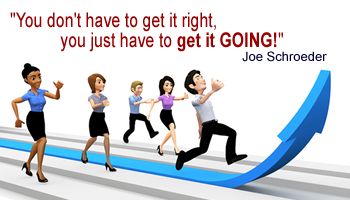 I love that quote by Joe Schroeder, "You don't have to get it right, you just have to get it GOING!" The way to get anywhere is to start from where you are right now and learn as you go.


Here is the key:


Learn things –> Share what you learned! –> Repeat –> Learn things –> Share!


If you are writing a newsletter or a blog, you can share things you are learning. Share things that will benefit other people. There are many people in need of the things you have learned. Even if you are a brand spanking new distributor, you can start writing a blog.


Writing a blog and building a list is one really powerful way to build your business. It's absolutely HUGE in importance, especially if you have any plan to do any online marketing.


Once you begin writing your blog, don't be so worried about getting it perfect. Just get it going. 😉


I know how easily you can get caught up in details and perfectionism. It's something I have struggled with over the years in my business. When you find yourself stalled because of trying to get things just right, remind yourself of Joe's words.

"You don't have to get it right, you just have to get it GOING!"


You also may want to try the EFT Tapping Session below to help clear feelings of needing things to be perfect. I love EFT for this kind of thing. It really helps me get back on track. Believe me, I use EFT all the time to deal with stresses of business and life in general. It's a tool I am grateful someone shared with me and I hope you benefit as much as I have.


EFT Tapping Clip – It Has To Be Perfect


YL Members: I am using Acceptance Oil Blend. See the printable scripts for other options.
Download the Printable Tapping Script: It Has To Be Perfect EFT tapping script