Love What You Do Or Do Something Else
It may seem a little harsh but I'm telling you now, if you don't love what you do, you don't have much chance for success in network marketing. The failure rate is pretty high in this industry but you CAN increase your odds for success.


Well, first thing is, let's lose that word ODDS. It's not about odds. It's about YOU and what you do, but one thing that is a major help in your success is liking what you do.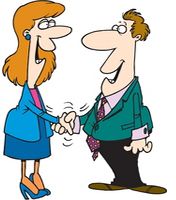 Those who are really successful in network marketing really love what they are doing. Not only do they like the network marketing industry and the company they are with but they also love marketing and promoting their business.


That's the part I want to talk to you about today. Actually finding pleasure in marketing your business. I heard someone say once, "Find the work you love, and the compensation will follow." That can be applied to the type of marketing you choose to promote your business. There are LOTS of ways to do that.


When I first began my network marketing career 17 years ago I was in a company that was not right for me and I hated what I was doing. They had us doing hotel meetings, 3 way calls on friends and family and other things that just did NOT fit my style. I stuck with that first company for 2 years until I just could not continue. I really did not like what I was doing. I loved the idea of working from home and having time and financial freedom but it seemed like something unattainable.


When another opportunity came along that felt like a better fit, I decided to give it another go. This time I would do things in a way that felt comfortable to me. That was 15 years ago and I am very glad I didn't give up on my dreams to work from home.


The key for me was to learn ways to market my business that I could really
enjoy. I needed to get people coming to me. I had no intention of chasing after people.


There are LOTS of ways to market your business and get leads coming to you. Find the ones that fit your style. Get your systems in place. Learn the skills and the mindset you need, then practice until you get better.


The best training I have found that covers most everything a serious network marketer needs is MyLeadSystemPro.


The more you love what you are doing, the more successful it will be for you.


I invite you to try a 14 day test drive: ==> http://mlsptestdrive.com
Google+
Tagged with: attraction marketing • mlsp • My Lead System Pro • MyLeadSystemPro • network marketing success • Success Mindset
Filed under: network marketing success • Success Mindset
Like this post? Subscribe to my RSS feed and get loads more!